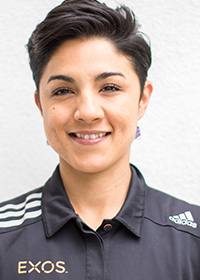 Performance Education Manager & Performance Coach for EXOS
Nicole is the Performance Education Manager and Performance Coach for EXOS. She previously was the Performance Director for Mike Boyle Strength & Conditioning.
Nicole is a performance coach, mentor and teacher. Born and raised in the Lone Star State (Texas), her sense of pride and ability to dream big is a cornerstone to her personality. Her actions have taken her from Texas, to Boston, to Phoenix and to 5 continents helping athletes, coaches and kids develop systems to manage themselves and others.
Currently she works at EXOS, human performance company in Phoenix Arizona, as a Performance Coach and Education Specialist since 2012. This role allows her to travel the world teaching/ consulting coaches and players from external and internal organizations.
She started her career as a student-athlete at the University of North Texas as a D1 softball player, then was a graduate assistant before she jumped ship to Boston to work with Mike Boyle at MBSC. During these formative years starting in 2006, she trained general population, professional athletes, developmental athletes and interns.
Since 2006, she worked with a diversity of sports, including International Football (soccer), American Football, Rugby, Ice-Hockey, Volleyball, Softball, Baseball, Cyclo-Cross, Mountain Biking, Running, Mountaineering and Tennis. In 2010, she became a licensed massage therapist and had been involved in various educational programs such as the FMS, USAW, NSCA, FRC, Mindset and Personal Development, Active Isolated Stretching and many others.